Find Your Voice: SRP 2024
---
Welcome to Summer Reading 2024! This year's theme is Find Your Voice, and all the activities we have planned will help you explore all sorts of different methods of self-expression! Given that there's so much individuality amongst our community, we want to make sure you have all the time in the world to experiment and explore, and we're doing some things a little bit differently!
What's staying the same?
Summer reading will continue to be two-fold: activities for all ages and a reading competition where you can win prizes. You don't have to participate in both. You can still absolutely come to all the activities and not turn in reading logs. You can only turn in reading logs. Prizes are available for all age groups, including adults, and participants can choose to log just reading or reading and activity participation. Participants can also enter as many times as they'd like/can read; entries can be dropped off at the library, or pictures of finished logs can be emailed to mandy.grimm@columbusjct.lib.ia.us! Drawings for prizes will take place August 1.
What's different?
We're running our summer reading activities more like a children's museum versus a specific hour-long program. Each set of "exhibits" will "run" for two weeks, then switch out for another set of activities. That means that you can come to the library whenever is convenient for YOUR schedule, stay as long as you'd like, and do whichever "exhibits" interest you or your family the most! All exhibits will have instructions or challenges for you to try, spending as much, or as little, time as you'd like on each one. All the activities have really been designed so there's no "right" or "wrong" way to do it - it's all about finding what works for you! However, library staff are happy to answer any questions you may have! You can come back as many times as you'd like during those two weeks, create and explore as much as you'd like - it's all about finding your voice! There will be 4 different themes:
*Find Your Voice With...Technology: open June 5-16
*Find Your Voice With...Art: open June 19-30
*Find Your Voice with...Engineering: open July 3-14
*Find Your Voice with...Words: open July 17-28
Given that there are more open ended activities and permanent objects being used with each exhibit, there's not a great way for us to package those up and send them home for take-home summer reading programming like we've done in the past. We will be adding a "virtual" exhibition here so that if you aren't able to make it to the library, you can still participate in the activities at home with supplies you may already have! CJ MakerBoxes will be on hiatus until September so that we're able to focus on all the wonderful summer reading programs that are happening in person and online!
Who can participate?
EVERYONE! Kids, parents, families - you name it! For example, when the art "exhibits" are open, and you as an adult want to make a collage or a vision board - go for it! Want to sew or make beads with your kids? Do it! Want to show your kids how to be a train conductor - step right up to the simulator! Summer reading is for everyone to explore and have a great time! And of course, everyone is welcome to read and turn in prize drawing entries! Register here for everyone in your family who would like to participate; it helps us to better plan for participation and prizes!
Will something come home from school about summer reading?
Absolutely! All Roundy students will bring home the flyer below closer to the end of the school year!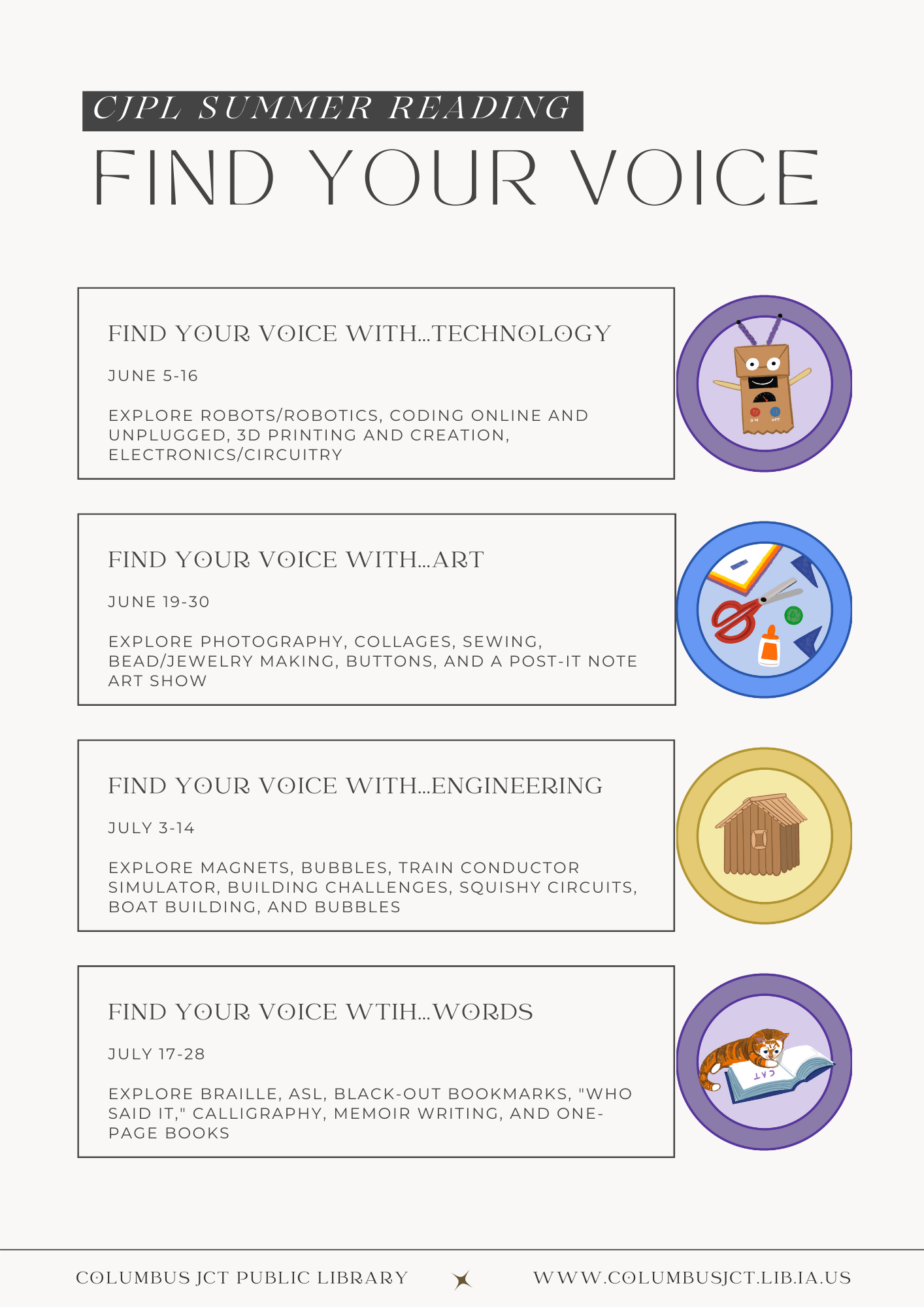 ---
Virtual Exhibits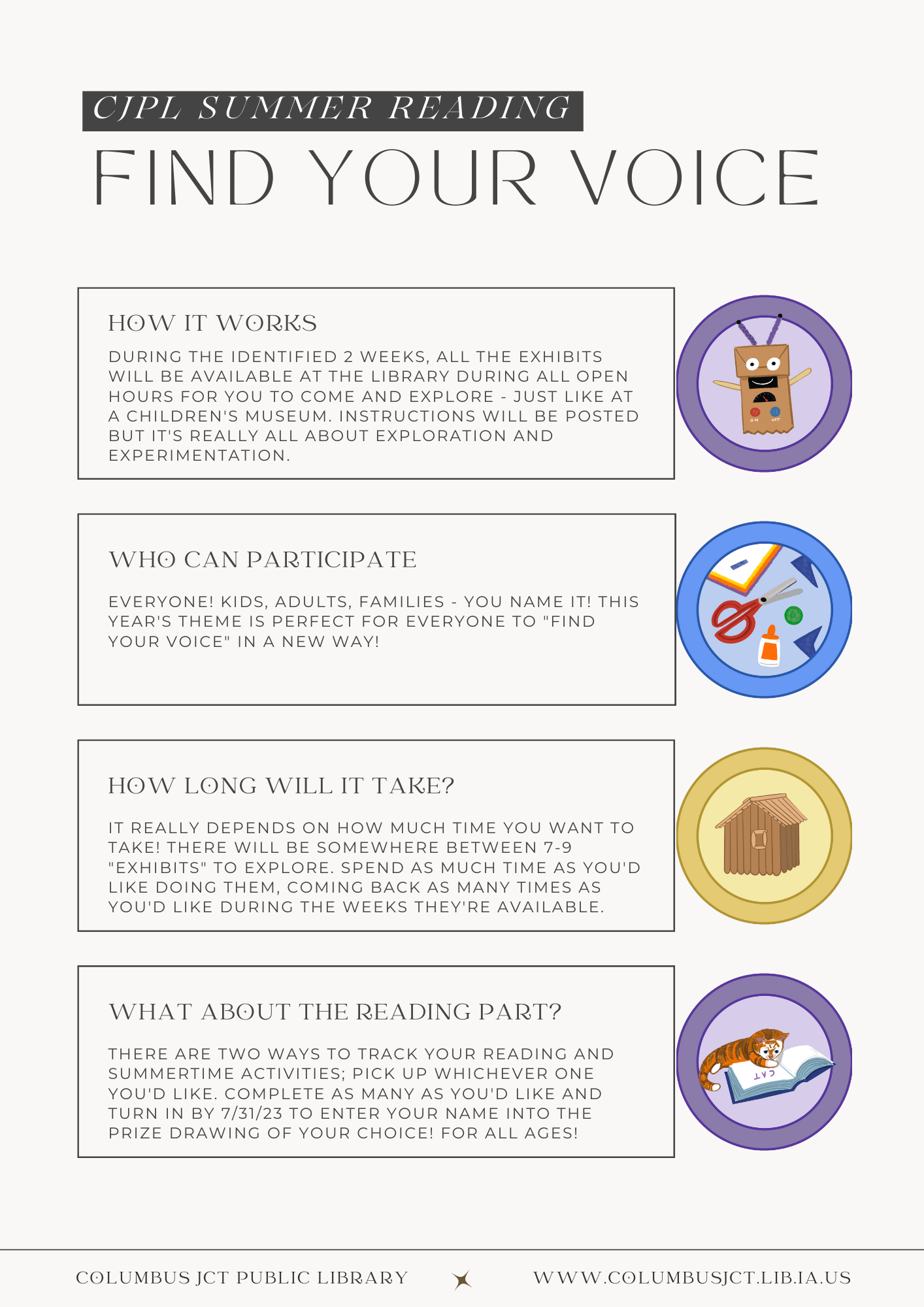 ---
---