Read Beyond the Beaten Path
---
We're so excited to "Read Beyond the Beaten Path" this summer - it's like summer camp at your library! Earn "badges" for each summer reading program you attend at the library, or grab supplies to do activities at home if you're unable to make it to the library. You'll get a pin for each one you complete! A full list of programs and dates are listed below! We'll have activities on Tuesdays and Thursdays from 10-11 am, beginning June 7 and running through July 14. Fill out punch cards to win prizes by reading books, participating in activities, or visiting Louisa County parks - more information on that below! Punch cards can be filled out any time between June 1-July 31, but must be turned in by July 31 to be a part of the prize drawings.
Sound good to you? Register here!
---
Tuesday, June 7th: Cooking "Badge"
Experiment in our ice cream lab, create a solar oven, and make your own oven mitt/pot holder to use in your solar oven!
Thursday, June 9th: Fantasy "Badge"
We're sending you on the Amazing Race: Library Quest Edition! With your team, complete challenges in Middle Earth, Narnia, Oz, Wonderland, Neverland, the Isle of Berk, and Where the Wild Things Are. Will you be part of the team that finishes the quest fastest?
Tuesday, June 14th: Theater "Badge"
Think you've got what it takes to take to the stage? Today we'll be flexing those creative muscles with charades, imagining other uses for cloth, and other drama related games!
Thursday, June 16th: Romance "Badge"
During this program we're going to love the Earth! We'll craft a butterfly feeder, experiment with pollinators, and create things to put in your own pollinator garden at home!
Tuesday, June 21st: Arts & Crafts "Badge"
We'll be taking it old school today with camp crafts - perler beads and shrinkydinks!
Thursday, June 23rd: Nature "Badge"
Louisa County Conservation will be visiting during today's program and sharing about nature here at home!
Tuesday, June 28th: Sports "Badge"
It's all things Nerf today! Craft your own Nerf bag, practice your target skills, and then take on everyone else in a library wide Nerf capture the flag game!
Thursday, June 30th: History "Badge"
We're exploring archaeology today with learning about excavation and practicing those skills and using our detective skills to solve some of history's mysteries!
Tuesday, July 5th: Mystery "Badge"
The library has been graffitied! You'll spend today's program looking for clues, exploring the suspect board, and coming up with your theory with what happened in the library!
Thursday, July 7th: Horror "Badge"
Ready to take on the things that go bump in the night? We'll keep it PG when we create lanterns to use at night, play a s'mores game, practice our campfire stories, and make walking s'mores!
Tuesday, July 12th: Science Fiction "Badge"
Robots, computers, and aliens - oh my! We'll explore deep space and make a constellation projector, make ourselves into robots, and try out some basic coding skills!
Thursday, July 14th: Graphic Novel "Badge"
In our final summer reading program, we'll explore all different things related to graphic novels: print making, bubble wrap prints, and more!
Can't make it to programs? We understand! Pick up kits to do projects at home or use the file below to do activities at home with what you already have! Doing either of these things counts towards your punch card!
---
Read Beyond the Beaten Path Punch Cards
Instead of tracking minutes or pages read, this summer we've got punch cards! Pick up your punch card(s) at the library, or you can fill one out digitally by using this form. Punch your cards from June 1-July 31, but cards must be returned to the library, physically or digitally, by July 31 to be entered into the prize drawings.
Punches are earned by:
Reading a book
Attending an activity at the library (or doing the activity at home if you're unable to make the date/time)
Visiting a park in Louisa County, including our Storybook Adventures!
ANYONE can complete punch cards, as we'll have prizes and drawings for all ages this summer!!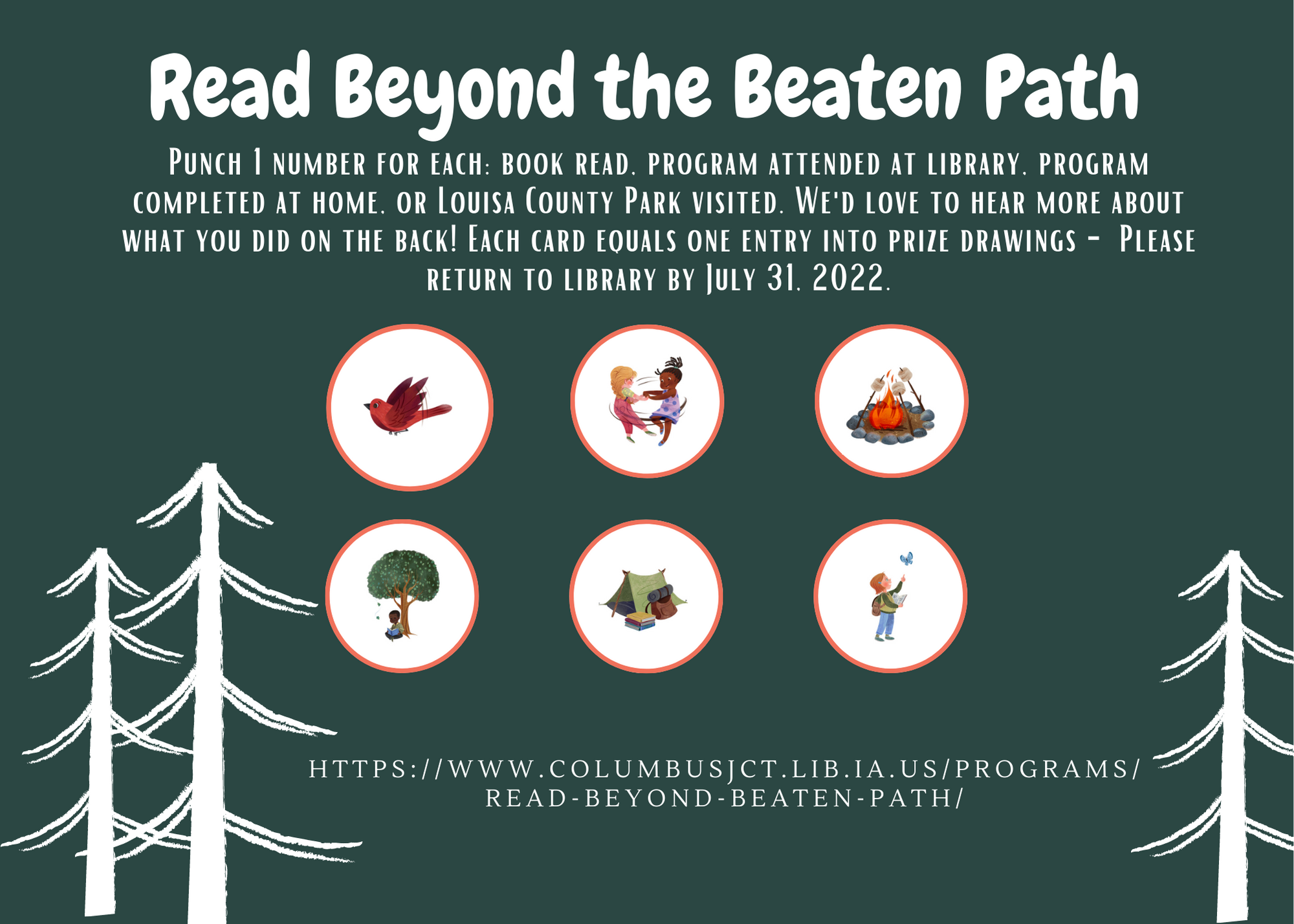 ---
Explore Beyond the Beaten Path
Check out all the great things Louisa County has to offer and "Explore Beyond the Beaten Path" this summer! Follow the links below for more information!
Louisa County Conservation/Louisa County Parks: Louisa County Conservation board maintains multiple locations throughout the county that are perfect for hiking, camping, fishing, and more!
Geocache: There are some awesome geocaching locations (many!) throughout Louisa County. Check out this website, create an account/download the app, and get started searching for caches!
Storybook Adventure: Check out Columbus Junction's city parks, specifically the Swinging Bridge Park's Possum Hollow Trail and Chautauqua's Trail to read a book while you hike!
Visit a local museum: There are some amazing local history museums in Louisa County - click on each link below for more information regarding hours, etc.
Columbus Community Heritage Center
Louisa County Historical Society
Rural Free Delivery Postal Museum
Visit the Columbus Community Pool - free admission thanks to the City of Columbus Junction's sponsorship!