Reading Colors Your World - SRP 2021
---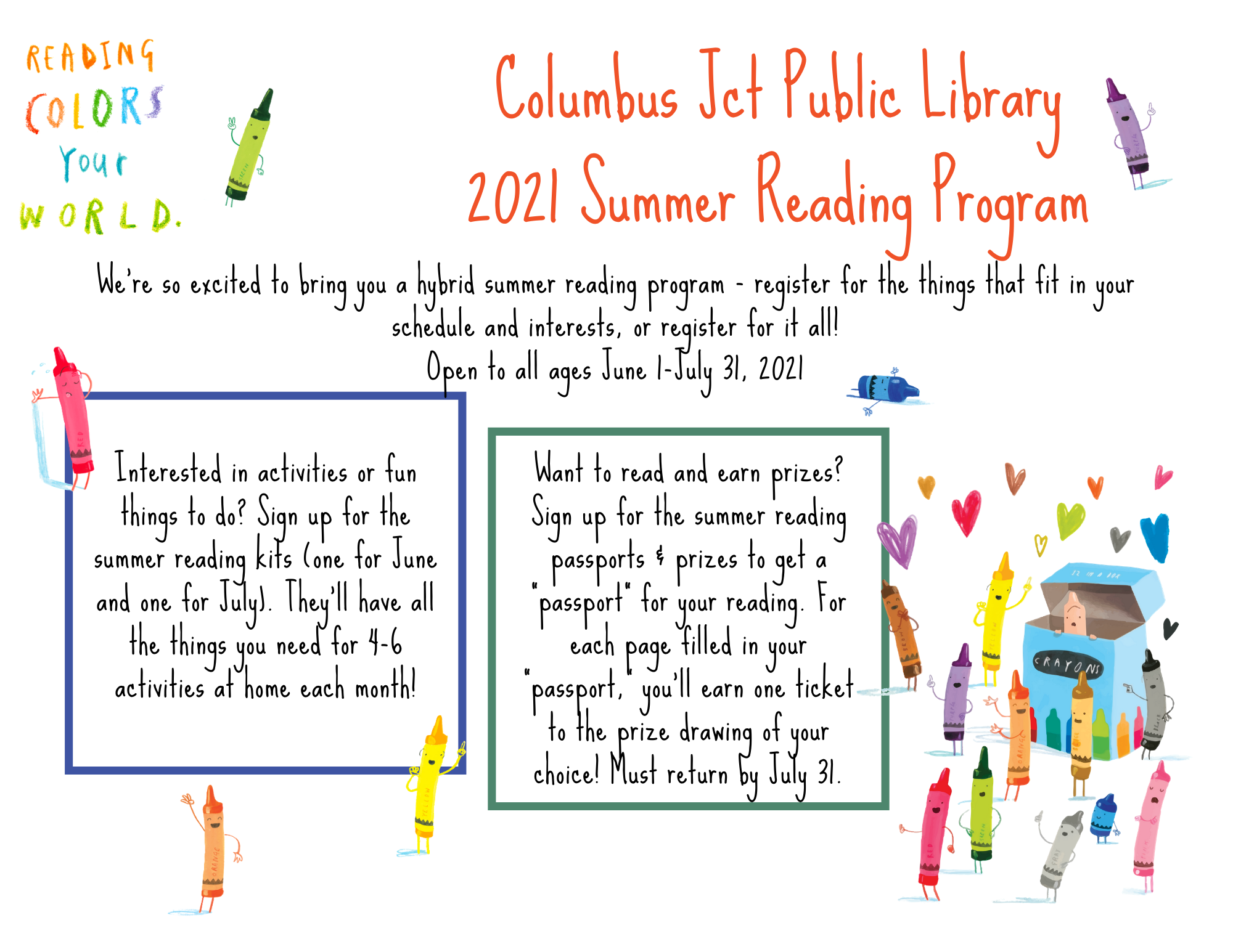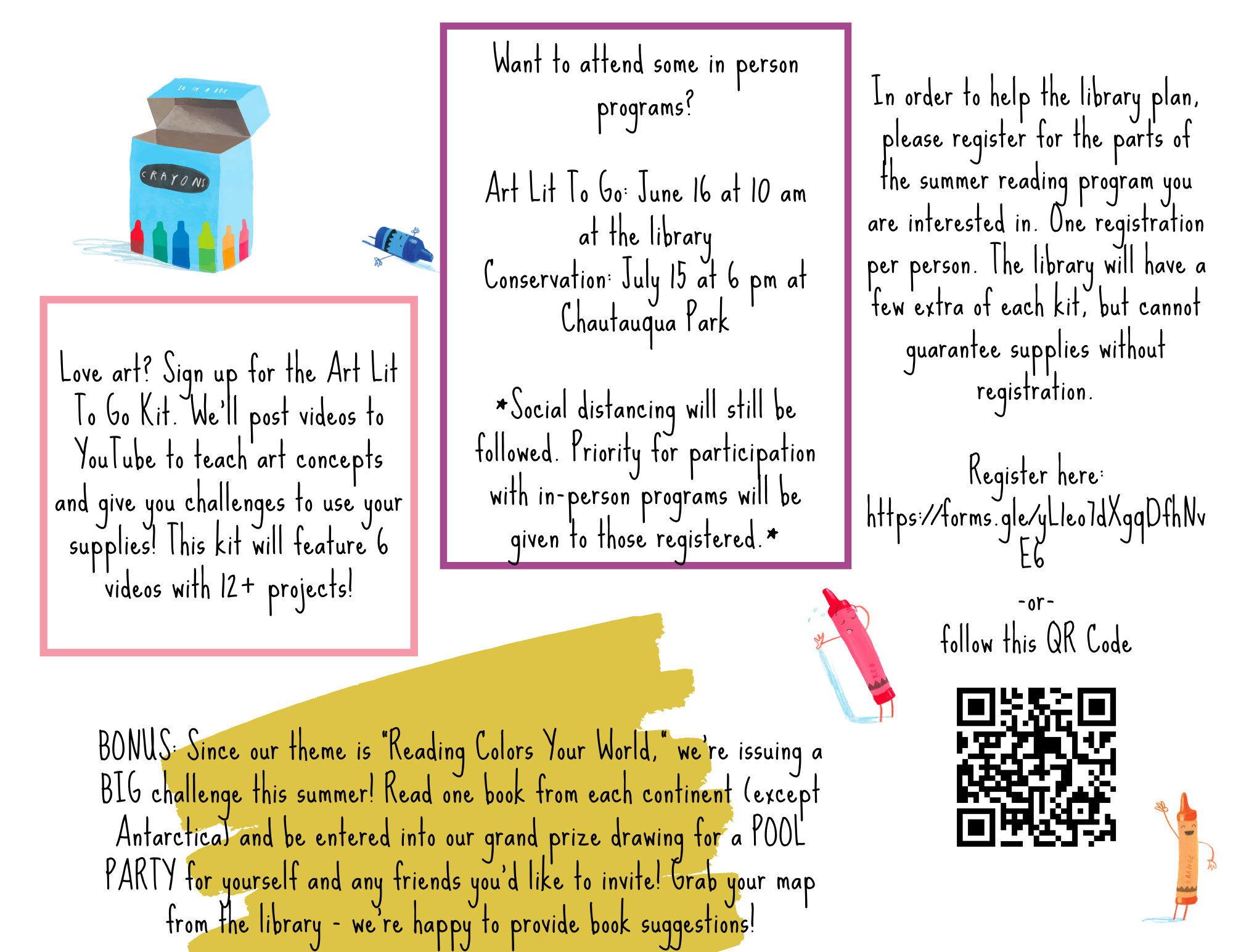 ---
---
"Passports" & Prizes
Instead of logging minutes read, participants in this part of the summer reading program will receive a "reading passport" and "passport stamp" from the library upon registration. Log books on the pages, and for each page filled (4 total books), you'll receive an entry to the prize drawing of your choice. Reading passports/entries for prizes must be back to the library by July 31, as drawings will take place on August 1. This will allow you to still enjoy your prize while there's still some summer left! Get as many "passports" as you need to log your books. Prize drawings will be held separately for those who are reading with an adult, and likely reading picture books (fewer pages = more books completed = more prize entries) and for those reading independently. This is perfect for all readers, and we invite anyone interested to join the fun this year!
Prefer to log your books online? Use this Google Form to submit your four books and tell us which prize drawing you'd like that entered into!
Bonus Reading Challenge
BONUS! Since our theme is "Reading Colors Your World," we're challenging you to read around the world! Read one book from each continent (except Antarctica), then color the associated continent on the map you pick up from the library, or download from link below. Upon completion, you'll be entered into a drawing for a private pool party at the Columbus Community Pool for yourself and anyone else you wish to invite! Links below for the map as well as Wakelet boards for book suggestions from each continent for adults and kids! Just like with the reading passports and prizes, we invite anyone interested in joining this challenge to do so this summer! Let's travel without ever leaving Columbus Junction!
Prefer to log your continents online? Use this Google Form to submit the names of the books for each continent to be entered into the bonus drawing!
---
---
Summer Reading Activity Kits
Summer reading activity kits are just like our CJ MakerBoxes only BETTER! They'll have 4-6 activities, related to the summer reading theme, that you can do at home - all supplies and instructions included. Sign up for a June or July box, or both, if you'd like! These are ideal for elementary aged kids, but anyone who wants to have fun will find that in these kits! To ensure you receive your boxes, make sure to register! A limited supply of extra boxes will be available at the library, on a first-come, first-serve basis.
---
Art Lit To Go Kit
Do you love art? Making things? Sign up for the Art Lit To Go Kit! The library will post videos throughout the summer (6 total) that teach various art concepts, art history, vocabulary and more, then issue challenges at the end of each video to use the supplies in your kit (12+ projects). Periodically, there will be fun games or family activities to do as well! This is a perfect kit for the budding artist, or the seasoned artist who is looking for a challenge beyond what you usually create! Again, kits will be issued at the beginning of summer, and the best way to ensure you receive one is to register for the Art Lit To Go Kit!
Art Lit To Go: In Person Event
Join us for one in-person Art Lit To Go event on June 16 at 10 am at the library! ISU Extension will be here to do a full session of learning and creating! Please make sure to register for this event on our summer reading registration form, as social distancing guidelines will be followed, and priority for participation will be given to those registered.
If needed due to registration numbers, a second time/date may be offered for this event.
---
Conservation: In Person Event
Join Louisa County Conservation at Chautauqua Park on July 15 at 6 pm for a fun filled outdoor storytime! Conservation will share stories, animals, and activities about colors in the outdoor world! Again, social distancing guidelines will be followed, and priority for participation will be given to those registered. If numbers necessitate, an additional time may be coordinated to offer this program again.
---
Extras - Family Dinner Book Club
Family Dinner Book Club will remain in the same format and will continue to release on the 3rd Wednesday of each month. Themes will be related to the summer reading theme and will just focus on early and juvenile fiction! We'll have a packet of activities and a voucher ready to go for your own Family Dinner Book Club! We will take a break for the month of August, though, so look for June's release on 16 and July's on July 21!
Extras - Bookshelf Bites
Bookshelf Bites is coming to you wwekly, rather than monthly! During the summer, we'll be putting out weekly Bookshelf Bites recipes and videos to follow along with at home! We will be using items that you may have in your kitchen and offer plenty of substitutions for the recipes so that you don't have to spend any extra money to cook along with us. But because we're looking at some refrigerated ingredients and some things that aren't shelf-stable, we won't be providing kits for each recipe. Look for new videos weekly May 26-August 18 on Wednesdays!
---
We hope you're as excited as we are about this year's "Reading Colors Your World"! We hope to add a few elements of play related to our theme in the children's room this summer as well as a few new fun items for our circulating collection. Be sure to check back here or follow our social media accounts for the most up-to-date information! As soon as we have prizes finalized, we'll be sharing them here too!
Follow this link to register for Summer Reading 2021! Please register any one who wants to participate - this year we want everyone to color their world with books!